Everyone asks me what most customers decide to order during their ordering appointments. The truth is everyone orders different things. Some clients wish to fill their walls with canvas wraps. Some invest in a custom album either during each session, or a big one at the end. Some decide a digital collection is what they wish to order. The good news is I have plenty of custom portrait products for you to choose from.
Custom wall art
Think of what is currently on your walls at home. Wedding portraits? Cute graphic art pieces? It's vey important to display your family on the walls of your home. These are important family memories that you don't want to have just sitting on your Facebook wall… they should be on the walls of your home. I offer custom art prints which you can either frame on your own, or you can display on an easel on a table.
I also offer custom professionally printed canvas wraps. These are stunning art pieces which make a beautiful gallery on your walls.
My software also allows me to show you your actual walls with different portrait galleries so you can see before ordering!
My custom frame line is a mix of shabby chic with a mix of classic tossed in. They're completely custom from their shape to their colors. My favorite mix of these are to do a 10×20 storyboard framed for the nursery.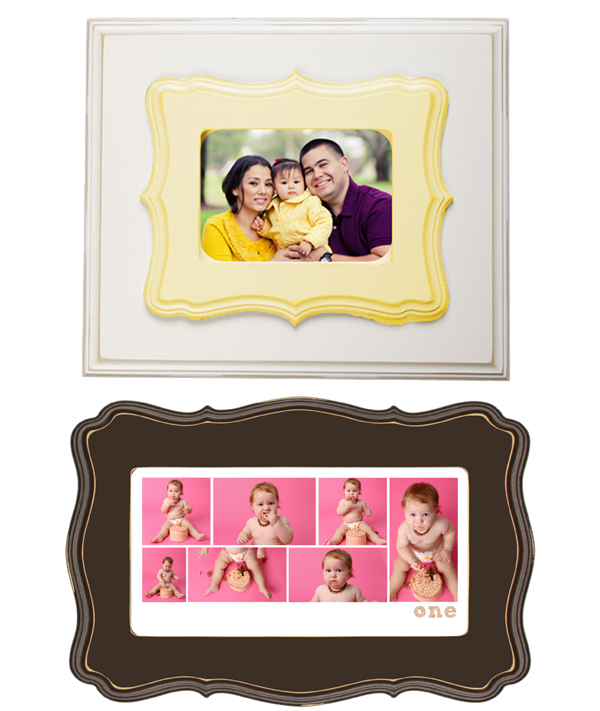 Custom announcements to send to family
My announcements have always been very popular. They are 5×7 & completely custom, double sided, printed on fine art linen paper and include envelopes. I have numerous samples in the studio to choose from and we customize from there. They come in sets of 25 and I guarantee you your family will be in awe with them. I do suggest ordering these for only your closest family and friends.
The other option is to order from my minted storefront.
When you order digital files from your session, I am more than happy to upload them to my storefront so you can order your cards there.
Custom albums
These are my absolute favorite products for clients to order from their sessions. You receive a completely custom professionally lab printed album with portraits from your session in a stunning album to pass down to our children in the future. You are going to enjoy the album for the next 20 years, then you will be passing it down to your child. These are not like cheapie albums you can buy online. You need to see & touch them to be able to understand how wonderful they are. I have a handful of clients who order an album from each session they do. But then I have a few who do an album at the end of their year of portraits including maternity through 12 month sessions bound into one book. This way is more cost effective, however you get way more portraits included when ordering an album with each session.
Digital collections
I do offer the printable digital files from your session, however there are may reasons I believe a professional product is more valuable. One reason is digital files will not be around in 20 years. Are you able to access your floppy disc drives from 15 years ago? Technology is always changing meaning the way we access digital files now will not be the way we access them in the  future.
What are you planning to use your files for? My files I sell are designed for printing smaller prints for your own personal use. If you wanted to print up numerous prints for family members, baby books, etc- then it makes sense to purchase digital files. If you just want to share the images on your social media- I don't advise you spend your money on them. I provide you social media files complimentary of any image purchased.
Files come in sets, and are sold with a personal use release, and a professionally printed art print so you can see how images look printed professionally. Many times customers have no idea how portraits are supposed to look printed because they have only seen on a screen. I also provide you a link to the lab I suggest you print at vs going to a local consumer lab so the printing is as close to my lab as possible.
Accordion books
I am in love with my accordion books! They are such a popular item. They come in a set of 3 professionally printed books with 10 of your images in your book. They make wonderful gifts for grandparents and also to keep in your purse. Love love love them!
You'll see all these awesome items during your in studio ordering appointment about two weeks after your session. Schedule your consultation with me to get started!