It's been nearly 5 years since I last did doggie portraits at Pawparazzi pet boutique! Remember when I did those? I was pregnant! Anyway, it's way long overdue and there are a few awesome reasons why you should reserve a session…
1- The creation fee is complimentary as long as you bring a bag of dog food to be donated to The Animal Pad – non-profit All Breed Dog Rescue. One bag per dog photographed. They are working SO HARD to have animals fostered and adopted so they aren't killed in shelters. Please remember this organization when you are looking for a dog for your family!
2- When did you last have professional portraits of your dog? Isn't he a family member?
3- You have the opportunity to purchase adorable boutique items in Pawparazzi while you are there for your photoshoot.
4- You will receive a voucher for $100 toward your family portrait session at another date with your portrait order of $300+
5- You may meet some other dog owners to socialize with & have doggie play dates
6- Kick off the summer with a-freakin-dorable portraits of your dog.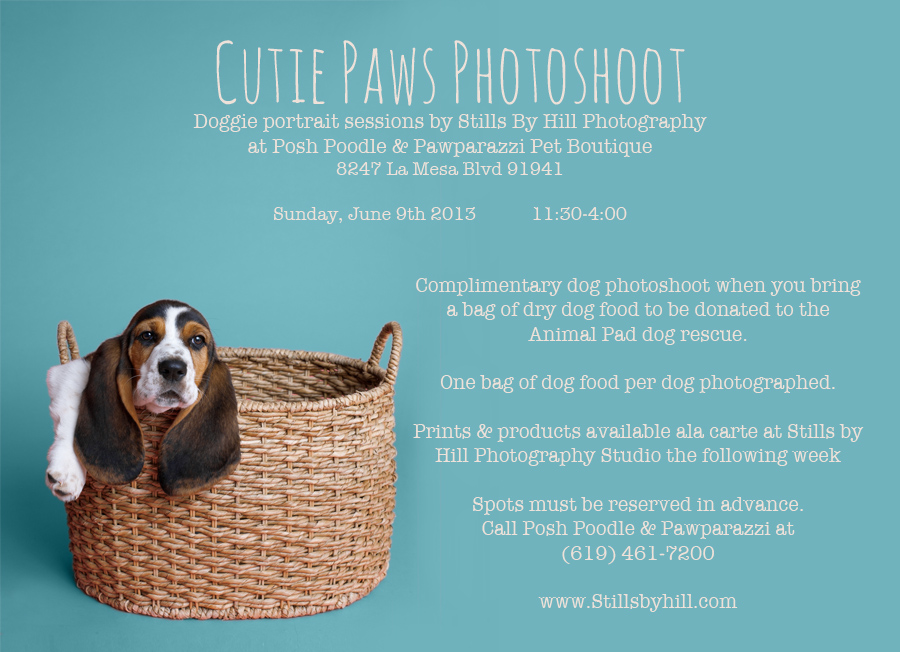 TO RESERVE YOUR SPOT:
Please call Posh Poodle & Pawparazzi to reserve your spot at 619-461-7200
Spots will fill up extremely quick so do not wait!
There is some fine print:
-Session is for one dog per bag of dog food provided. This is not a family portrait session, thank you for understanding.
-Sessions will be about 15-20 minutes long. Please bring treats for your dog
-About a week later, you will schedule an appointment to come into my La Mesa studio to do an ordering appointment where you will view and order the products you wish to purchase. Prints and products begin at $65  and I do offer digital products. I can email you product pricing if you wish. Pricing is on the back of the card which will be at the Boutique after Friday, May 17. Online ordering is unavailable for these sessions, but everything you order will be given to you complimentary to share online.
-Sessions will be indoors on a backdrop. Feel free to bring any props you wish to try to incorporate and I will do my best to utilize them.
-The parking meters are free on Sundays in La Mesa Village!
I can't wait to see all the cute pups!