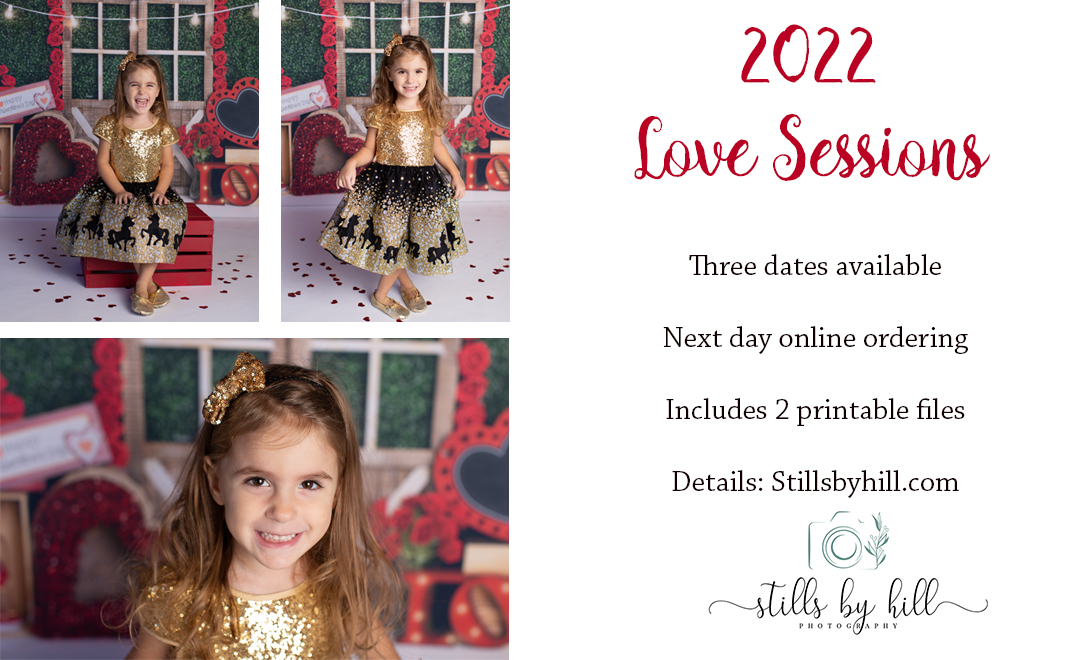 Love mini sessions are back! I will be offering these on select Sundays January & February and will include up to 4 little subjects (the set is smaller, so adults will fit if they are on the floor sitting)
Sessions will be about 10 minutes long and include (2) printable portrait files for you to print on your own. You may purchase more if you like but are not required to. I will have different package options to you to choose from when you order from your online cart.
***Babies photographed must be able to sit up on their own unassisted or be able to push themselves up on their belly, or have someone hold them.***
Session and (2) files is $75 which is non refundable and is required to hold your spot. Additional prints, products and digital files are available for purchase in your online cart following your session!
Please fill out the form below which will hold your spot until I receive your non-refundable payment toward your session. Please let me know your preferred time spot in the form below.
**Details to keep in mind because of Covid:
-I will be requiring all customers to reschedule if anyone is feeling sick, has a fever or is waiting for test results. Deposits will be forwarded to a future session.
-Session will be in my garage at a 6′ distance and with the door open for air flow. I will be sanitizing between customers and also limiting prop use in the set.
-Unfortunately, I am unable to allow any customers to go into the home to use the restroom. I apologize for this but it's just for safety. Please come prepared with your kids in their outfits and ready to go.
-Ordering will be done online so your appointment will only be for the length of time of shooting.
2022 Love Mini Sessions
Please use this form to contact me about your Holiday Mini. You will hear from me within 24-36 hours. If not, please check your spam and email [email protected]. You may also call 619-246-7016. 
Package options
Session includes 2 printable files. Additional purchase is not required but will be available for purchase after the session in an online cart
Option 1: $240+tax
8×12 standout fine art print with 3 of your favorite images ready to hang
All images from your gallery
Option 2: $210
11×14 Digital storyboard ready to print with 4 of your favorite images
All images from your gallery
Option 3: $175
8 additional printable files
Option 4: $120
3 additional files
Prints & add on items
Below 8×10: $35
8×10 $55
11×14: $75
12×12: $95
Custom storyboard +$55
8×12 Standout fine art with 3 images: $175
3 Wallet size fabric/image cover wallet accordions: $225/$275