It's that time again! This event fills up SO quickly every year! To celebrate my studio's birthday and my birthday, I do a super discounted mini session in my studio to celebrate. This year, my studio turns 7 and I turn 32… so sessions are $32 and all prints below 8×10 are also $32. If you have done a session with me in the past, you are well aware what an awesome deal this is 🙂
Sessions are available from 9:30am until 1:pm on August 24, 2014. If spots fill up quickly, I will open the spots for more time. Please try to reserve your spot close to a booking already made so I don't have huge gaps. If I end up with huge gaps, I will contact you to see if I can move your spot to an earlier/later time.
Sessions are in my La Mesa studio and include one, two or three children. Please make sure to select the correct number of children and use the correct paypal option when booking your spot.
After the session, I will be turning on an online cart for you to purchase whatever you like. Digital files are available starting at $75. Everything ordered (even if you don't purchase files) always goes online for sharing 🙂
Please remember that babies may only be photographed once they can prop themselves up on their bellies (about 4 months.)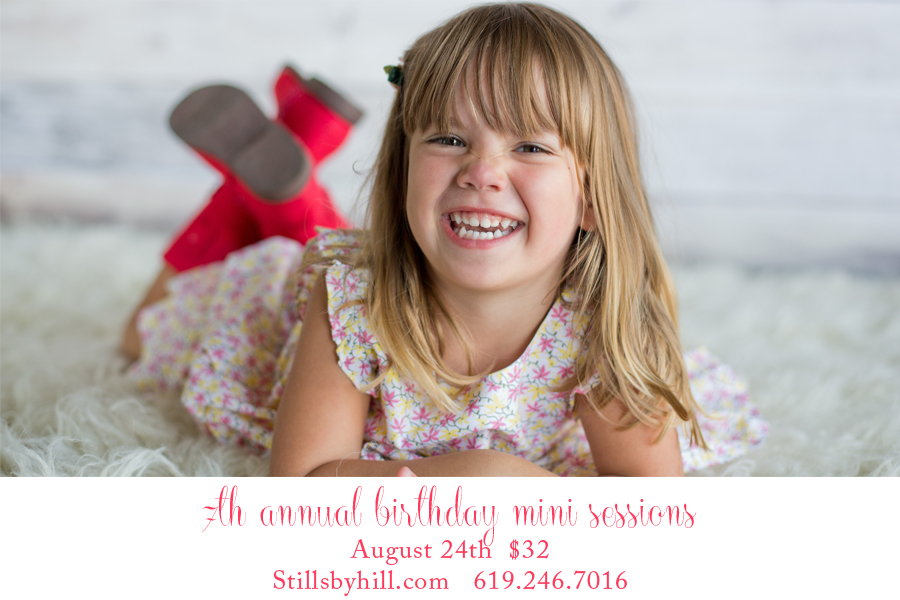 Please follow these instructions to reserve your spot. Spots are not fully reserved until payment has been made. The session fee is non-refundable and non-transferable.
STEP ONE:
Go here to book your spot. You will select the La Mesa location, the date being August 24, and then follow instructions to one, two or three children. You can also do this on my fan page with the tab "clickbook booking" and go that route.
STEP TWO:
Pay the paypal link for either one, two or three children. If you have a problem with the paypal, please email me directly hillary at stillsbyhill.com and I will send you an invoice for the accurate amount
If you have any questions or need assistance booking, please let me know and I will help you out.